---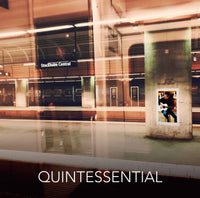 QUINT STARKIE『Quintessential』CD
PCD-94066
Format: CD
Price: 2,400 yen + tax
Release Date:2021/12/15
★Supervision and commentary: Toshikazu Kanazawa (Light Mellow)

Quint Starkie is a West Coast singer/songwriter full of acoustic and heartwarming comfort. This long-awaited sophomore album follows on the heels of his excellent debut!

Has there ever been a more song-oriented pop songwriter in recent years? Quint Starkie is a singer/songwriter born in the UK, started his career in Hollywood, and is now based in Scandinavia. This is his second new album in Japan in about two years. For everyone who understands the essence of music and its differences, regardless of the form of the sound..." --Toshikazu Kanazawa (Light Mellow)

Quint Starkie, a British singer/songwriter living in Sweden, has released his second album in two years. This album is a masterpiece, following on from his first album, which was full of west coast and yacht rock SSW charm. As with the first album, I highly recommend this album to fans of Jackson Browne, J.D. Souther, Fleetwood Mac, and in recent years, John Mayer and Young Gun Silver Foxes.
---
■Track list
1. Mr. Maxwell
2. Just Like You
3. Endless Summer
4. Hollywood
5. Fear Of Flying
6. Caught Up In The Middle
7. Home Again
8. The Gardener And The Flower
9. Beautiful Thing
10. Falling For The First Time
11. Something I Couldn't Be