---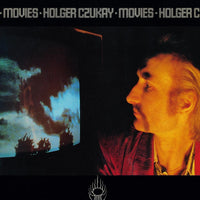 Holger Czukay "Movies"
PCD-24763
Format: CD
List price: 2,400 yen + tax
Release date: 2018/09/28
★ Holger Czukay Retrospective
★ 2018 remaster
★ First limited production paper jacket specifications
Shukai himself plays almost all the instruments, but the drums / percussion is Jaki Liebezeit (Kan). "Cool In The Pool" is a pop song that is too fun with humor and a genius editing sense. All the members of Kang participated in "Oh Lord Give Us More Money", and it is a masterpiece "more like Kang than Kang" that Kang could not make in the latter half of the 1970s.
"Persian Love," which was used in commercials in Japan and made a smash hit, is a Taoyuan Township sound that perfectly fuses the singing voice of an Iranian singer picked up from shortwave radio and instrumental performance, and invites unspeakable melancholy. From the mysterious "Hollywood Symphony", which has been carefully edited "like a movie", it gives you a vivid listening experience that evokes various images.
---
■ Track list
1. Cool In The Pool
2. Oh Lord, Give Us More Money
3. Persian Love
4. Hollywood Symphony