---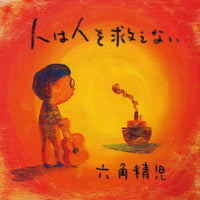 六角精児『人は人を救えない』CD
PCD-18893
Format: CD
Price: 3,000 yen + tax
Release date:2022/04/20
Seiji Rokkaku sings folk and rock masterpieces! A purely domestic song with the scent of the Showa era is sublimated into a mellow adult rock sound based on blues and country! Also included is an original new song "To Your Town" that is irresistible for "Drinking Iron" freaks, with the theme of "Sake" and "Railway", which can be called the life work of Seiji Rokkaku!

"In the last few decades, the work I've always wanted to hear was born."
Yoshiro Nagato (Pied Piper House)

Seiji Rokkaku's first solo album is a collection of old folk / rock covers. However, it is not a work that reminds me of the old days with a distant eye. As you can see from the lineup of songs that are not straightforward, such as Hiroshi Kamayatsu, Maki Asakawa, Kyouzou Nishioka, cats, Yoshio Hayakawa, the personality of Hexagon himself is different from the nostalgic hit parade. It's a cover album that bleeds deeply. It was Yu Taniguchi who worked on the sound production. A new generation of rock musicians centered around him, sounds of new interpretations by skilled masters such as Ko Iga and Toru Egami, and sessions that transcend generations with Hexagon will be the highlights of this work. In addition, he participated in Keiichi Suzuki's "Scampin". In addition, various guests such as Shigeru Suzuki, Ren Takada, Takuro Okada, and Shunputei Shota are also performing wonderfully at key points. The supervisor was Yoshiro Nagato, who can be said to be the most important behind-the-scenes of the Japanese rock / pop world. The title and illustration of the jacket that leaves a brilliant impression was created by Kotobuki. This work has a lot of powerful members, but even among them, the hexagonal vocals have an indescribable presence. One may not be able to save one, but his singing voice can gently move one's heart.
---
---
■Track list
DISC 1:
1. やつらの足音のバラード
2. 告別式
3. あたしのブギウギ
4. 雪の月光写真師
5. 各駅停車
6. スカンピン
7. 追放の歌
8. サーカスにはピエロが
9. 女の証
10. この世で一番キレイなもの
11. 風景
12. お前の町へ