---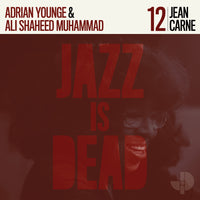 ADRIAN YOUNGE & ALI SHAHEED MUHAMMAD『JEAN CARNE (JAZZ IS DEAD 012)』CD
PCD-17843
Format: CD
Price: ¥3,000 + tax
Release date.:2022/06/15
★Imported domestic distribution specification
★with obi/Japanese commentary.
"Jazz Is Dead", the second in a second series! "Jazz Is Dead", which has become one of the most popular underground and jazz labels in LA, has released its second series of 10 albums in the first series, which was completed in the midst of the Corona disaster, when the label's original live events could not be held. The second volume of the second series is now available. The first compilation "Jazz Is Dead 011" raised the alarm, and now it's time to get things underway with the release of "Black Jazz"'s leading songstress, Jean Kern!


Jean Carn, wife of Doug Carn, appeared on the fifth album in the first series of "Jazz Is Dead", and during the Black Jazz period in the early 1970s, she was a vocalist on Doug Carn's spiritual and black jazz masterpieces "Spirit Of The New Land" and " Revelation, in which he literally participated as a vocalist under the notation 'featuring the voice of Jean Carn'. She then moved to Philadelphia International, the home of Philly Soul, where she worked under the production of Gamble & Huff and Dexter Wanzel on "Free Love", which was heavily played by Larry Levan, and "Was Was Love", which was produced by Dexter Wanzel. She has recorded three albums of disco classics, including Larry Levan's "Free Love" and "Was That All It Was", both of which have been played heavily by Larry Levan. She.

Backed by The Midnight Hour (Adrian Young & Ali Shaheed Muhammad), his first solo album in a long time focuses on warm, joyful moods, as evidenced by song titles like "People Of The Sun" and "The Summertime". The album is mainly warm and sunny, as evidenced by song titles such as "People Of The Sun" and "Summertime". The album is a rare groove album of the 70's soul-jazz genre. People Of The Sun", which could have been quietly included on a rare groove album of 70s soul-jazz, "My Mystic Life", which shows off his true potential as a jazz vocalist, and "The Soul", which is a neo-soul-tinged song with a jazzy, jazz-rock feel. The Summertime", a stylish neo-soul tune, and the fast and furious "Black Love", which is sure to become a regular in the record bags of danceable jazz DJs. Again, the power and expressiveness of the singer's voice, which is hard to believe she is in her 70s, is simply astonishing. The Midnight Hour is another great album that also showcases the musical nostalgia of the duo.
---
■Track list
1. Come As You Are
2. People Of The Sun
3. Visions
4. My Mystic Life
5. The Summertime
6. Black Rainbows
7. Black Love