---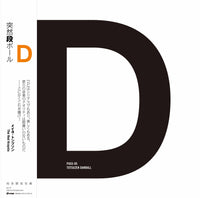 TOTSUZEN DANBALL『D』LP
PASS-05
Format: LP
Price: ¥ 3,800 + tax
Release date.:2022/06/02
★First time completely limited production
Japanese rock treasures Suddenly Cardboard released their masterpiece D (their 22nd album) in 2008 as the third release on the new PASS label, and now it's available on long-awaited LP!
Mixed by the genius Jim O'Rourke!

Suddenly Cardboard is a unique rock band from Fukaya. The first original studio album after the death of Eiichi Tsutaki, led by his younger brother Shunji Tsutaki. Jim O'Rourke, who knows the guitar sound inside out, agreed to mix the album. O'Rourke's extraordinary mixing of the album brought the best-quality guitar sound ever, a sudden cardboard guitar sound that no one else could imitate. How's that freshness, that tremendously comfortable uncomfortableness! Guest appearances by the late ECD and others. Translated with www.DeepL.com/Translator (free version)

'D' is both serious and fun. It is seriously funny. The quality of their music is unmistakable and their mood and attitude is addictive. My most basic and highest recommendation is - just listen to this! The.
――Mayo Thompson (The Red Krayola).
---
---
■Track list
SIDE A:
1. もう学校には行かない
2. 私は決して本気にならない
3. 解けない知恵の輪
4. Bsus4の子守唄
5. 近所迷惑
6. 猫殺しマギー
SIDE B:
1. 開発の跡地
2. 不思議の国の住人
3. シベリアパン
4. 丘の上から
5. オー・イェー