---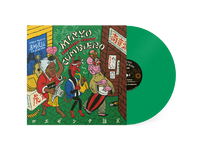 Minyo Crusaders & Frente Cumbiero『Minyo Cumbiero (From Tokyo To Bogota) (Green Vinyl)』
MAIS-038LPC
Format: 12inch
Price: 2,100 yen + tax
Release date:2021/06/18
※ MAIS UM/EU direct import board
The 12-inch collaboration between the folk song Crusader's & Frente Cumbiero, which was released in 2020 and recorded sales of over 1,700 copies in Japan and overseas, is repressed with a limited green color board!

Mario, a collaboration album (2011) between the folk song Crusader's, which is now spreading its name in the living room, such as being featured on NHK and news agencies, and Mad Professor. ・ A co-starring album with Frente Cumbiero, the current cumbia band led by Galeano (a project with Quantic, also active in Onda Tropicala). These two groups have deepened their acquaintances by getting to know each other at Fuji Rock '18, where they both appeared. Recorded locally when Mario's humorous folk song Crusader's toured Colombia in August-September 2019.
Folk song + Latin + something + cumbia = magical !!
---
---
---
---
■Track list
SIDE-A:
1. Mambonegro Daisakusen
2. Cumbia del Monte Fuji
SIDE-B:
1. Tora Joe
2. Opekepe
Minyo Crusaders & Frente Cumbiero『Minyo Cumbiero (From Tokyo To Bogota) (Green Vinyl)』12inch