---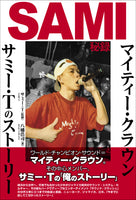 SAMI Secret ~Mighty Crown/Sammy T Story
price: 1,980 yen + tax
Release date: 2023/6/2
ISBN:978-4-910511-49-8
[table of contents]
CHAPTER ZERO TOKYO 2020
Mighty Crown/Sammy/My story/"What's it like?"/"I will leave it to you"

■CHAPTER 1 YOKOHAMA KID
Yokohama Chinatown / Senjo, soccer and skating / Muro-chan, Zema and Banana Size / Turntable, Bob Marley and part-time jobs
/ Cassette and Sound / Mighty Crown Formation / Sammy T
■CHAPTER 2 NEW YORK 1992
Studying in New York, "Don't back down" and the hawk / Flashback Japan / Grass, Lower East Side Records and Levren Badu
/ First Brooklyn and Nicodemus and First Dub Recording / Badu's Restaurant, Patois and "Chin" / Sacred Place Biltmore and Awakening / 90s Dance Hall
/ Benefactor Kim / The first three months were too dense
■CHAPTER 3 BROOKLYN / STRUGGLE
Drop Out and Hiro Tanaka and Grass / Nigel and "Welcome to Outlaw" and "Nigga" / Japanese people in New York and "Minna no Yakata"
/ Koji-kun / First trip to Jamaica and "What a shitty country" / Jamaica, Jamaica / General and Starlight Ballroom / Slump / Returning home, hometown and "Fuck"
■CHAPTER 4 YOKOHAMA / PROGRESS
Tsujido and Brain Buster and All Par/Chupa and Sound Clash/"Yokohama Reggae Bash"/Flash Back Japan
/ Japanese Sound / Boston, Legacy and Bokoboko / "Fire and Fist" and Hope / Flash Back Japan / Yellow and Taxi Hi-Fi / Bayside Jenny and "Vertex"
■CHAPTER 5 ROAD TO WORLD CLASH '99
Washington and the "World War" / Boston and the "Vintage War" / "Here we go!" and farewell to the General / The night before the decisive battle
CHAPTER 6 WORLD CLASH '99
"World Crash" and "Enter Your Dragon" / Simulation and "Chase Vampire" / Chupa and Tune Fi Tune / "I Made You Understand" / "My Life Changed"
■CHAPTER 7 YOKOHAMA 2023
Reaching out to the Readers!!
■Supervision
SAMI-T
One of the owners and main selector of Mighty Clown, a sound system crew formed in Yokohama in 1991.
Champion sound with 8 world major sound clash titles. He has been touring and performing at events all over the world for over 20 years.
He is a central figure in Japan's leading sound, as well as a reggae ambassador and cultural icon who is active worldwide.
Hosted by Japan's largest outdoor reggae festival, ``Yokohama Reggae Festival'', ``Summer Sonic'', ``Air Jam'', and other large rock festivals
He has been active in a wide range of activities, including being the first Sound member to play at the prime minister's official residence in Japan. He has worked on many songs as a producer and track maker, and is also active as an artist.
■ Author
Koji Yawata
After working at a record company, he founded 24x7 Records (Twenty for Seven Records Ltd.) in 2000.
He is active in disseminating the works, songs, artists, and culture of reggae labels from Jamaica, New York, and other countries to Japan.