---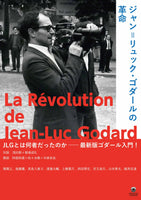 "Jean-Luc Godard's Revolution" ele-king editorial department (ed.)
price: 1,800 yen + tax
Release date: 2023/02/21
ISBN:978-4-910511-40-5
A filmmaker who was more pop-cool than anyone else and always new and ethical.
Jean-Luc Godard, the greatest postwar film revolutionary who has constantly innovated movies since his spectacular debut in ``Do What You Do'', will end his life of his own will on September 13, 2022 at the age of 91. Closed.
We will explore the full story of this great filmmaker, who has continued to have a significant presence for approximately 60 years since his spectacular emergence as the standard-bearer of the Nouvelle Vague, through an introduction to his filmography, columns, and conversation articles.
Conversation: Akira Asada + Naruyoshi Kikuchi
Discussion: Kazushige Abe + Atsushi Sasaki + Masaya Nakahara
Author: Junji Hori, Mamoru Goto, Yaeko Mao, Daisuke Watanabe, Hazuki Kamijo, Hiroji Nishida, Mizuki Kodama, Takamitsu Yamamoto, Hiromichi Hosoma
table of contents
Biography The cinematic life of Jean-Luc Godard (Junyuki Hori)
Dialogue Akira Asada + Naruyoshi Kikuchi "There is no one as cool as this"
Discussion: Kazushige Abe + Atsushi Sasaki + Masaya Nakahara "The most ethical filmmaker"
Filmography
Steal it in your hands - the return of Kapparai "Do as you please" (Mamoru Goto)
1960—1966 Godard during the Anna Karina era (Yaeko Mao)
1967—1968 Image and sound, an era of exploration of what film is (Kamijo Hazuki)
1969—1972 "Optical voices calling us to wake up" - Dziga Vertov collective era (Hiroshi Nishida)
1973—1987 Collaboration with Miéville: Establishment of <Sonimage> and return to commercial films (Mizuki Kodama)
1988—1998 1990s--10 years leading to "Movie History" (Takamitsu Yamamoto)
2001—2018 21st Century Godard (Hiromichi Hosoma)
Column
Nouvelle Vague and Godard (Daisuke Watanabe)
People surrounding Godard after the Nouvelle Vague (Daisuke Watanabe)
Godard's Friends (Kamijo Hazuki)
List of films directed by Godard
index
profile