---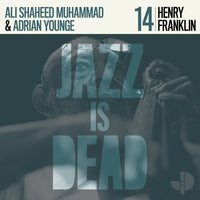 ADRIAN YOUNGE & ALI SHAHEED MUHAMMAD『HENLY FRANKLIN (JAZZ IS DEAD 014)(Color Vinyl)』LP
PLP-7919CB
Format: LP
Price: ¥5,000 + tax
Release date:2023/02/15
★Imported version with domestic distribution specifications
★Japanese OBI-Strip
Jazz Is Dead, the fourth in the second series! Jazz Is Dead', which became the most popular presence in the LA underground and jazz scene with its first series of 10 albums, which were successfully completed in the midst of the Corona disaster, when the label's original live events could not be held, is now the fourth in its second series. The fourth installment of the second series is now available. This fourth volume of the second series, which started with the first compilation, features Henry Franklin, a famous bassist who was active on the Black Jazz label in the 1970s like Gene Kern, who was featured in the second volume, and who is also known as the Skipper.!

He began his professional career as a member of Roy Ayers' Latin jazz quartet while at Manual Arts High School, and was later discovered by Hugh Masekela, who saw him play and recognised his talent. Henry Franklin has been used by Stevie Wonder, Freddie Hubbard, Al Jarreau and many other famous musicians. In 1972, Black Jazz released his first leader album, the eponymously titled The Skipper, followed two years later by The Skipper at Home, and he has also played on a number of Black Jazz classics and is regarded as one of the label's most influential figures. He has become a trusted name in the rare groove - black jazz community.

The Skipper at Home's "Soft Spirit" was sampled in A Tribe Called Quest's "The Hop", so it was inevitable that Ali Muhammad would come up with the track. The collaboration with Ali Shaheed Muhammad was inevitable. The album opener "Karibu" opens the album with a slow build-up into double time, a song that gets your heart racing right from the start. "People's Revolution" follows in the vein of royal black jazz, such as "Black Jazz" and "Strata East", but from here to the end of the song, the main protagonist's The variety of the music is outstanding. The sound of "Feedback" is an update of Chick Corea's immortal "Return to Forever", "Cafe Negro" recalls the Latin-jazz fusion that Charles Mingus so fondly remembers, and "The Rhythm of the World" is a more modern version of the classic "The Rhythm of the World", with a more modern sound. Cafe Negro", and the incandescent "African Sun", which, like Youssef Lateef, incorporates West African rhythms, tracing the history of the jazz greats' past challenges. The result is a record full of surprises and impressions, with the maestro's aggressiveness as a jazzman coming to the fore, as if he were tracing the history of the challenges of the jazz greats.
※Credit card payments
Payment for this product will be made before the product is released (payment at the time of order).
If you wish to cancel or refund your order before the release date, please contact store@p-vine.jp.
---
---
---
---
■Track list
SIDE:A
1. Karibu
2. The Griot
3. People's Revolution
4. Memories Lost
SIDE:B
1. Feedback
2. Cafe Negro
3. African Sun
4. A Song For Sigrid