---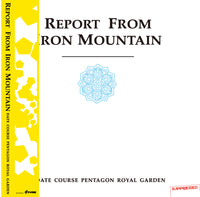 DATE COURSE PENTAGON ROYAL GARDEN『Report From Ironmountain』LP
PLP-7151/2
Format: 2LP
Price: 5,000 yen + tax
Release date:2021/11/17
The 1st album "Iron Mountain Report" (2001), which can be said to be the origin of the big band DC / PRG presided over by "Naruyoshi Kikuchi", who has swept the scene with a sound that never stops evolving and has had a great influence on many artists. Is finally vinylized!

Twenty years after its release, one of the shocking pieces that sublimated the origin from the 70's electric miles into dance music in a unique style that crossed over from jazz to soul to funk to afro to contemporary music is the latest release. Mastering and reviving!

DC / PRG, which issued a statement of dissolution with the final performance on April 2, 2021, has had a great influence on the music scene of the 2000s with its unique style, the shocking 1st album!An angry instrumental music that folds in a big band style with 11 members equipped with polyrhythmic rhythm, heavy groove, and twin drums!The style that transcends genres and categories, such as playing Jimi Hendrix's famous number "HEY JOE" with an original interpretation, is a borderless sound suitable for the beginning of the 2000s!
---
---
---
---
■Track list
SIDE A:
1. CATCH 22
2. PLAY MATE AT HANOI
SIDE C:
1. CIRCLE/LINE~HARD CORE PEACE
SIDE D:
1. HEY JOE
2. MIRROR BALLS