---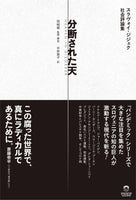 Slavoj Žižek (author), Ryu Okazaki (supervisor), Atsuko Nakabayashi (translator) "Divided Heaven: Slavoj Žižek Social Review"
price: 2,500 yen + tax
Release date: 2022/06/22
ISBN:978-4-910511-20-7
In an era of disorder and confusion, what is the way out?

To be truly radical in this rotten world.
──Kohei Saito (Anthropocene 'Capital Theory', etc.)
Donald Trump, Joe Biden, Bernie Sanders, Vladimir Putin
Julian Assange (WikiLeaks), Greta Thunberg
Brexit, the Yellow Vest Movement, the Umbrella Movement, the Middle East conflict and the Palestinian struggle, and the coronavirus pandemic.
The "Pandemic" series attracted a lot of attention.
A Slovenian intellectual giant cuts through the turbulent modern world!
table of contents
Prologue: Is this situation still "good"?
Chapter 1: Is the drone attack on Saudi Arabia really a game changer?
Chapter 2: Who devastated Kurdistan?
Chapter 3 Various troubles in our paradise
Chapter 4: The dangers of drinking coffee with Assange
Chapter 5 Anatomy of a Coup: Democracy, the Bible, and Lithium
Chapter 6 Chile: Towards a new signifier Nicole Barria-Asenjo and Slavoj Žižek
Chapter 7: Defeat of the left-wing Labor Party: An attempt at an autopsy
Chapter 8 Yes, discrimination against Jews is alive and well - but where?
Chapter 9: A completely rational act. a crazy world
Chapter 10: Winners and losers of the Iran crisis
Chapter 11: Has America Really Lost its Moral Leadership? The current situation where the United States is becoming a four-power system
Chapter 12: A plea for a moderately conservative left
Chapter 13: The Amazon is on fire - so what?
Chapter 14: Radical change, not sympathy
Chapter 15 Trump vs. Rammstein
Chapter 16: It's a day of shame. Jeez!
Chapter 17 Limits of Democracy
Chapter 18: The courage of COVID despair
Chapter 19: Trump's Barber Paradox
Chapter 20 How to make Trump obsolete in his concept
Chapter 21: Rebirth of democracy? Joe Biden can't do it!
Chapter 22 Situation and choices
Chapter 23 "Great Reset"? Yes, please--but the real one!
Chapter 24 Christ in the Corona Pandemic
Chapter 25: First a farce, then a tragedy?
Chapter 26: What is Trump's biggest betrayal?
Chapter 27: Julian Assange, dedicated to you
Chapter 28: Biden talks about Putin's soul
Chapter 29 Class Struggle to Resist Class Discrimination
Chapter 30: "You have to live until you die" What you need to know from Rammstein about "life" under a pandemic
Chapter 31: A European Manifesto
Chapter 32: Which game stopped?
Chapter 33: Can you see the light at the end of the tunnel?
Chapter 34 Three Ethical Attitudes
Chapter 35: 150 years since the Paris Commune
Chapter 36: Why am I still a communist?
Supervisor Commentary: Žižek's current situation analysis ── "Divided Heaven" and "Radical Choice" (Ryu Okazaki)