---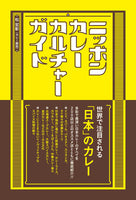 Hiroaki Matsu (Curry Cells) (Author) "Nippon Curry Culture Guide"
price: 1,680 yen + tax
Release date: 2022/01/31
ISBN:978-4-909483-97-3
★46 size
★ Page 192
One of the world's leading curry countries - you can learn about Japanese curry in one book!
Diverse roots such as European curry, Indian curry, Sri Lanka, Pakistan, Nepal, Bangladesh, Thailand, etc.
A variety of unique Japanese curries such as curry noodles, soup curry, spice curry, and local curries.
A guidebook about the deep curry culture and over 200 recommended restaurants is now available, written by an author who has eaten at over 4,000 curry restaurants! !
table of contents
Introduction
Chapter 1 Pioneers of Japanese curry
Chapter 2 Western-style/European-style curry
Long-established Western-style curry / Popular Western-style curry / European-style curry / European-style curry (Bondi style) / French curry / Cutlet curry / Dry curry
Chapter 3 Curry and rice
Major chains / Tokyo curry and rice / Tokyo curry and rice (cafe curry) / Kansai curry and rice / Kanazawa curry / local curry and rice / grilled curry / dam curry
Chapter 4 Curry bread
Chapter 5 Japanese curry
Curry udon/Curry soba/Curry bowl/Spice Japanese food
Chapter 6 Chinese curry
Chinese curry (meal)/Chinese curry (neo-Chinese curry)/Curry ramen/Spice ramen
Chapter 7 Curry around the world
Indian Curry / Pakistani Curry / Bangladeshi Curry / Nepali Curry / Sri Lankan Curry / Biryani / Thai Curry / Curry from Other Countries Chapter 8 Soup Curry
Chapter 9 Craft Curry (Spice Curry)
Osaka spice curry 1st generation / Osaka spice curry 2nd generation / Osaka spice curry 3rd generation / Osaka spice curry 4th generation or later / Kyoto craft curry / Kobe craft curry / Kanto craft curry (long-established / Indian curry) / Kanto craft Curry (New Generation/Spice Curry)/Kyushu Craft Curry/Nagoya Craft Curry/Shizuoka Craft Curry/Tohoku Craft Curry
Chapter 10 Spice Izakaya & BAR
Chapter 11 Curry at a meat restaurant
Chapter 12 Curry Innovative
Chapter 13 Retort Curry
Chapter 14 Curry + Culture Event
in conclusion