---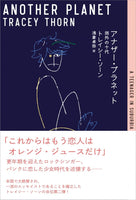 "Another Planet: Suburban Teen"
Tracy Thorne (author)
Takuya Asakura (Translation)
Base price: 2,900 yen + tax
Release date: June 3, 2020
Hardcover: 368 pages
ISBN: 978-4-909483-55-3

"From now on, my only lover will be orange juice."
A rock singer who has reached menopause,
I grew up in an ordinary residential area.
Reminiscing about the time when she was a girl who fell in love with punk.
Bringing together many important things in her life
It was highly praised in its home country,
She established herself as a first-class essayist.
Tracy Thorne's second autobiographical essay!

Release date: June 3, 2020