---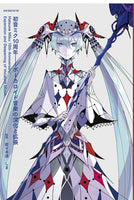 Now, 10 years have passed since its release,
What is the situation surrounding Hatsune Miku/VOCALOID?
Let's expose the current situation!
●Cover illustration: PALOW
●Illustration: vivi
●Hatsune Miku's past, present, and future
Wataru Sasaki long interview
Yoshihide Otomo x Wataru Sasaki Dialogue
Wataru Sasaki × Shijima Conversation
Hiroyuki Ito Interview
●Song introduction
Electronica, future bass, rap/hip hop,
Alternative/Rock, Classical,...
Organize the various Vocaloid sound sources that are flooding the internet,
Introducing over 90 carefully selected songs regardless of the number of plays!
What is the Vocaloid scene like now?
The definitive catalog focusing on trends over the past few years!
●Interview/dialogue
Mitchie M × Wataru Sasaki
pinocchio pea
DECO*27
ATOLS × Kikuo (Interviewer: Hickey P)
Babu-chan × Rotating Ellipsoid (Interviewer: Hickey P)
Pine umbrella × Dennoko P
Super Magic Hats
Mota Shiina (Powapowa-P) memorial talk
Ryosuke Sonehara × Yuma Saito
●Comment
Laurel Halo / Oneohtrix Point Never / Big Boi (Outkast)
●Columns, essays, critiques, etc.
Masashi Uebayashi / Kanna / Dai Sato / Sayawaka / Shima / Nobuo Tsujimura & Hirofumi Katayama / Denshinooto / Keiichi Toyama × Shintaro Yonezawa / Hifumi Nakayama / HAPAX / Kohei Yagi / Masashi Yoshida
● Access key for downloading unreleased songs included
* The download deadline is December 31, 2017.
Wataru Sasaki (supervisor) Shima (supervisor)
Takuon Kobayashi (ed.)
Masashi Kamibayashi (cooperation)