---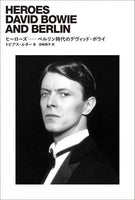 From the hell of Hollywood to Berlin, West Germany, we follow David Bowie from 1975 to 1978, a period shrouded in mystery.
The story behind the Berlin trilogy is now revealed──
It is still fresh in the memory that David Bowie passed away on January 10, 2016, two days after releasing his new album "Blackstar,'' which was written in anticipation of his own death, and shocked the world. .
David Bowie, who has left behind many masterpieces during his long career, moved to the United States in the mid-1970s, was weakened by severe cocaine addiction, and moved to Berlin, where he was born. The ``Berlin Trilogy'' - "Low,'' "Heroes,'' and "The Roger'' - is known as another climax in Bowie's career.
This book is a critical biography that focuses on his time in Berlin. It can be said that it is one of the long-awaited books with very deep content.
table of contents
   INTRODUCTION
1. The man from hell
   THE MAN WHO CAME IN FROM HELL
2. Professor Bowie's Cabinet
   THE CABINET OF PROFESSOR BOWIE
3 "Law", or the medical record of a superstar
LOW, OR A SUPERSTAR'S MEDICAL RECORDS
4. New city, new job
   NEW CAREER, NEW TOWN
5. Party on the edge of a cliff
   THE PARTY ON THE BRINK
6 Have you seen David Bowie?
   DID YOU SEE DAVID BOWIE?
7 Heroes
HEROES
8 Farewell Berlin
GOODBYE TO BERLIN
Conclusion: Where is he now?
   CODA: WHERE IS HE NOW?
Heroes??David Bowie in Berlin
Tobias Luther (author) Atsuko Numazaki (translator)
Release date: 2017/3/17
Price: 3,500 yen + tax
Product number: ISBN:978-4-907276-76-8