---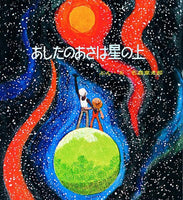 Published in 1967,
A collection of rare children's books written by Shotaro Ishinomori, a master of the manga world, during his lifetime.
Reprinted to the present age beyond the time of 50 years!
Set on Earth facing the "end of the world" due to a solar explosion,
A story of the bond between a black chocolate man and a white boy that transcends racial barriers.
The story is set in a fictional city in the southern United States. Centering on the interaction between a black farmer's "chocolate old man" and his master's son, a "white boy", the story of the sun is interspersed with warnings about social issues such as racism, the Cold War, and nuclear power. The crisis of the Earth's destruction due to an explosion is depicted through interactions with UFOs and aliens. The message of "respect for diversity" that runs through his works seems to predict the present day.

Shotaro Ishinomori
1938 Born in Ishimori Town, Tome District, Miyagi Prefecture. He died in 1998. His real name is Shotaro Onodera. His pen name was taken from his birthplace, Ishimori. His representative works include "Cyborg 009", "009 No 1", "Ryuu no Michi", "Jun", "Sabu to Ichi Torimono Hakko", "Sarutobi Ecchan", "Robot Detective", "Introduction to the Manga Japanese Economy", and "HOTEL". He mass-produced works in a wide range of fields, from science fiction comics to educational comics, and was praised as the ``King of Manga'' and ``Emperor of Manga.''
Release date: 2017/3/30
Price: 3,200 yen + tax 
Product number: ISBN:978-4-907276-71-3