---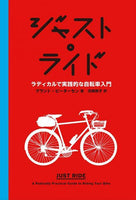 Don't you think it's strange that people who ride as a hobby are using all the equipment of professionals in the cycling world?
A popular writer in the American cycling world talks humorously! Riding, equipment, safety, health and fitness, accessories, maintenance, mathematical expertise, and philosophy. A groundbreaking guide that overturns many conventional wisdoms about cycling!
Challenging common sense in the bicycle world The controversial book that has become a hot topic overseas and has thrown a stir into bicycle culture has finally been translated and published!
Author Grant Petersen, who has worked in the bicycle industry for many years, explains what's wrong with cycling culture. It examines all the common sense when riding a bicycle one by one, giving readers new ideas. We will also reaffirm the appeal of bicycle life.
A must-read book for cyclists, finally published in translation!

Grant Petersen, Just Ride: A Radically Practical Guide to Riding Your Bike
Release date: 2016/10/24