---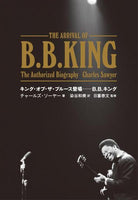 A masterpiece of B.B. King's critical biography and a classic study of black music, the first translation published after 35 years.
Why is he the "King of the Blues"? What exactly made him a true bluesman?
And how did an orphaned boy who started out as a sharecropper on a Mississippi plantation at the age of 14 come to be on the verge of world fame at the age of 49?
The definitive edition of the critical biography of B.B. King, the king of the blues, will finally be published in Japan. What kind of life did a bluesman lead in the 1930s in the southern United States, when Jim Crow laws (racial discrimination system) still existed, and how did his music develop?
Charles Sawyer (author)
Yasufumi Higurashi (supervisor)
Kazumi Someya (translator)
Release date: 2015/12/02