---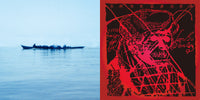 [With flexi disc] "Aburadako" (boat board) LP + "ADK LIVE" LP set
PLP-7167 + PLP-7168
Format: LP + LP
List price: 8,300 yen + tax
Release date: 2021/09/15
★ P-VINE Online Shop, Record Shop Base, Disk Union Limited
★ Completely limited production
★ With obi

■■ Limited set with flexi disc:
Single-sided recording flexi disc: Unreleased song "Korega Watashinoguchi" live sound source
A song created by Mr. Hasegawa for Kenji Ohtsuki's solo and played by Aburadako, the first sound source for Hasegawa vocals!
* The set will end as soon as it runs out.
* The flexi disc is not sold separately.


* Unreleased live on "ADK LIVE" LPAdditional recording of 2 works (not unreleased songs) has been decided!


[Aburadako / Aburadako (boat board)] LP
Aburadako There are only Aburadako bands like this. The 7th work (commonly known as "Funeban") released in 2008, which is a concept album that tells the story from departure to arrival on a boat that dies in the light blue fog. Recorded and mixed by Soichiro Nakamura (PEACE MUSIC).
A large psychedelic picture scroll in which the performance dislocated to the limit is projected under the listener's consciousness through the sea of words that slide through metaphysics. This latest album at this time, which is significantly different from any previous work, is filled with the truth of the 7th edition that Aburadako has finally become a mess. The long-awaited LP!

[Aburadako / ADK LIVE] LP
Along with the songs recorded in the LP "ADK" released earlier, 13 live recordings contained in the CD "ADK" released by P-Vine in 2008 will be made into LP for the first time.
Uncut recording of the live performance at Shinjuku JAM, which is now gone in September 1983, when the band was formed. In addition, until 2008 CDIncludes 5 unreleased songs (all live recordings). Completely packed with the early chaos that Aburadako's unusual sound was born and fell. Here is a primitive sound block.
* Orders cannot be canceled after booking
* The shipping date will be the day before the release date (shipped on 2021/09/14)
* Payment can be made by paypal, credit card, or cash on delivery.
* Paypal will be settled at the time of ordering
* Credit will be settled at the time of shipment
* If you purchase products with different release dates at the same time, we will ship according to the latest release product.
---
---
---
■ Track list
Aburadako "Aburadako" (Funeban) LP
SIDE-A:
1. 1. Misunderstanding
2. Reservoir
3. 3. No swimming
Four. Mochibuki Jilba
Five. Frozen charcoal
SIDE-B:
1. 1. Craig Bizmas
2. Seven herbs ranch
3. 3. All-sided blue
Four. Cat horn
Five. Arrival at the port
Aburadako "ADK LIVE" LP
SIDE-A:
1. 1. Jueju
2. Rice nist
3. 3. Humiliation of Jerusalem
Four. Kristallnacht
Five. Running high
6. Patience
7. 7. Nothing
8. 8. Atomic bomb
SIDE-B:
1. 1. LOGOS (September 22, 1984, Rokumeikan) *
2. FUN
3. 3. Swimming high
Four. Ska
Five. Cuckold
6. Tamdo
7. 7. OUT OF THE BODY (September 22, 1984, Rokumeikan) *